Acne Overview
Acne is a skin condition in which the pores become blocked, causing pimples to develop. Acne is the most common skin disorder, affecting an estimated 85 percent of adolescents.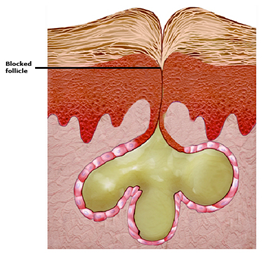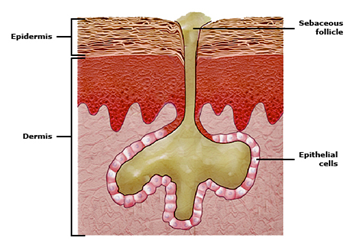 Acne Causes
Hormonal changes
— Hormonal changes during adolescence cause the sebaceous glands to become enlarged and sebum production increases. In most people with acne, hormone levels are normal, but the sebaceous glands are highly sensitive to the hormones.
Less often, women's hormone levels are affected by an underlying medical problem known as polycystic ovary syndrome (PCOS).
Acne tends to resolve between ages 30 to 40, although it can persist into or develop for the first time during adulthood. Post-adolescent acne predominantly affects women, in contrast to adolescent acne, which predominantly affects men. Acne can flare before a woman's menstrual period, especially in women older than 30 years.
External factors
— Oil-based cosmetics may contribute to the development of acne. Oils and greases in hair products can also worsen skin lesions. Water-based or "non-comedogenic" products are less likely to worsen acne. People with acne often use soaps and astringents. While these treatments remove sebum from the skin surface, they do not decrease sebum production; frequent or aggressive scrubbing with these agents can actually worsen acne.
Diet
— The role of diet in acne is controversial. Some studies have found associations between cow's milk and an increased risk of acne, perhaps because of hormones that occur naturally in milk. However, there is no strong evidence that high-fat foods or chocolate increase the risk of acne.
Stress
— Psychological stress can probably worsen acne. In several studies of students, acne severity appeared to worsen during times of increased stress.
Acne Treatment
There is no single best treatment for acne, and combinations of treatments are sometimes recommended. Since acne lesions take at least eight weeks to mature, you should use a treatment for a minimum of two to three months before deciding if the treatment is effective.
Acne skin care
— Skin care is an important aspect of acne treatment.
Skin hygiene
— Wash your face no more than twice daily using a gentle non-soap facial skin cleanser and warm (not hot) water. Some providers recommend avoiding use of a washcloth or loofah, and instead using the hands to wash the face. Vigorous washing or scrubbing can worsen acne and damage the skin's surface. Do not pick or squeeze pimples because this may worsen acne and cause skin swelling and scarring. It can also cause lesions to become infected.
Moisturizers
— Use of a moisturizer minimizes dryness and skin peeling, which are common side effects of some acne treatments. Moisturizers that are labeled as "non-comedogenic" are less likely to block skin pores.
Sun protection
— Some acne treatments increase the skin's sensitivity to sunlight (eg, retinoids, doxycycline). To minimize skin damage from the sun, avoid excessive sun exposure and use a sunscreen with SPF 15 or higher before sun exposure.
Acne and pregnancy
— Many acne treatments are not safe for use during pregnancy. Women who are pregnant or intending to become pregnant should consider stopping all acne treatments before becoming pregnant. If acne therapy becomes necessary, discuss the options with your healthcare provider.
When to see a doctor
Acne usually isn't a serious medical condition. But you may want to seek medical treatment from a dermatologist for persistent pimples or inflamed cysts to avoid scarring or other damage to your skin. If acne and the scars it may have left are affecting your social relationships or self-esteem, you may also want to ask a dermatologist if your acne can be controlled or if your scars can be diminished
Treatment
Acne treatments work by reducing oil production, speeding up skin cell turnover, fighting bacterial infection, reducing the inflammation or doing all four. With most prescription acne treatments, you may not see results for four to eight weeks, and your skin may get worse before it gets better.
Your doctor or dermatologist may recommend a prescription medication you apply to your skin (topical medication) or take by mouth (oral medication). Oral prescription medications for acne should not be used during pregnancy, especially during the first trimester.
Types of acne treatments include:
Over-the-counter topical treatments.
Acne lotions may dry up the oil, kill bacteria and promote sloughing of dead skin cells. Over-the-counter (OTC) lotions are generally mild and contain benzoyl peroxide, sulfur, resorcinol, salicylic acid or lactic acid as their active ingredient. These products can be helpful for very mild acne. OTC acne medications may cause initial side effects — such as skin irritation, dryness and flaking — that often improve after the first month of therapy.
Topical treatments available by prescription.
If your acne doesn't respond to OTC treatments, you may want to see a doctor or dermatologist to get a stronger prescription lotion. A number of benzoyl peroxide and antibiotic combination medications are available, including different dose combinations of benzoyl peroxide and clindamycin / erythromycin. Prescription topical treatments for acne may cause skin side effects, such as stinging, burning, redness or peeling. Your doctor may recommend steps to minimize these side effects, including using a gradually increased dose, washing off the medication after a short application or switching to another medication.
Antibiotics.
For moderate to severe acne, you may need a short course of prescription oral antibiotics to reduce bacteria and fight inflammation. Since oral antibiotics were first used to treat acne, antibiotic resistance has increased significantly in people with acne. For this reason, your doctor likely will recommend tapering off these medications as soon as your symptoms begin to improve, or as soon as it becomes clear the drugs aren't helping — usually, within three to four months. In most cases, you'll use topical medications and oral antibiotics together. Studies have found that using topical benzoyl peroxide along with oral antibiotics may reduce the risk of developing antibiotic resistance. Antibiotics may cause side effects such as an upset stomach, dizziness or skin discoloration. These drugs also increase your skin's sun sensitivity and may also reduce the effectiveness of oral contraceptives.
Isotretinoin.
For deep cysts, antibiotics may not be enough. Isotretinoin is a powerful medication available for scarring cystic acne or acne that doesn't respond to other treatments. This medicine is reserved for the most severe forms of acne. It's very effective, but people who take it need close monitoring by a dermatologist because of the possibility of severe side effects. Isotretinoin is associated with severe birth defects, so it can't be safely taken by pregnant women or women who may become pregnant during the course of treatment or within several weeks of concluding treatment. In fact, the drug carries such serious potential side effects that women of reproductive age must participate in a Food and Drug Administration-approved monitoring program to receive a prescription for the drug.
Isotretinoin commonly causes side effects such as dry eyes, mouth, lips, nose and skin, as well as itching, nosebleeds, muscle aches, sun sensitivity and poor night vision. The drug may also increase the levels of triglycerides and cholesterol in the blood and may increase liver enzyme levels.
In addition, isotretinoin may be associated with an increased risk of depression and suicide. Although this causal relationship has not been proved, doctors remain on alert for these signs in people who are taking isotretinoin. If you feel unusually sad or unable to cope while taking this drug, tell your doctor immediately.
Oral contraceptives.
Oral contraceptives, including a combination of norgestimate and ethinyl estradiol, can improve acne in women. However, oral contraceptives may cause other side effects — such as headaches, breast tenderness, nausea and depression — that you'll want to discuss with your doctor. The most serious potential complication is a slightly increased risk of heart disease, high blood pressure and blood clots.
Laser and light therapy.
Laser- and light-based therapies reach the deeper layers of skin without harming the skin's surface. Laser treatment is thought to damage the oil (sebaceous) glands, causing them to produce less oil. Light therapy targets the bacteria that cause acne inflammation. These therapies can also improve skin texture and lessen the appearance of scars. More research is needed to understand the most effective use of light and laser therapies in acne treatment, and experts currently recommend these approaches as stand-alone therapy only in people who can't tolerate approved acne medications. These therapies may be uncomfortable and may cause temporary skin problems that mimic a severe sunburn.
Cosmetic procedures.
Chemical peels and microdermabrasion may be helpful in controlling acne. These cosmetic procedures — which have traditionally been used to lessen the appearance of fine lines, sun damage and minor facial scars — are most effective when used in combination with other acne treatments. They may cause temporary, severe redness, scaling and blistering, and long-term discoloration of the skin.
Acne scar treatment
Early Acne Scars
After an acne lesion has healed, it can leave a red or hyperpigmented mark on the skin. This is actually not a scar, but rather a post-inflammatory change. The redness or hyperpigmentation is seen as the skin goes through its healing and remodeling process, which takes approximately 6-12 months. If no more acne lesions develop in that area, the skin can heal normally. Any color change or skin defect still present after 1 year is considered to be a permanent defect or scar.
Preventing Early Acne Scars
The best way to prevent post-inflammatory changes caused by acne is to prevent acne lesions from occurring. This is done by understanding the factors that cause acne and using the appropriate treatments for the different acne types.
Doctors may be able to use certain procedures to diminish scars left by acne. These include fillers, dermabrasion, intense light therapy and laser resurfacing.
Soft tissue fillers.
Collagen or fat can be injected under the skin and into scars to fill out or stretch the skin, making the scars less noticeable. Results from this acne scar treatment are temporary, so you need to repeat the injections periodically.
Dermabrasion.
Usually reserved for more severe scarring, dermabrasion involves removing the top layer of skin with a rapidly rotating wire brush. Surface scars may be completely removed, and deeper acne scars may appear less noticeable. Dermabrasion may cause pigmentation changes for people with darker skin.
Microdermabrasion.
This newer acne scar treatment involves a hand-held device that blows crystals onto skin. These crystals gently abrade or "polish" the skin's surface. Then, a vacuum tube removes the crystals and skin cells. Because just the surface cells are removed, the skin isn't damaged. However, results are subtle and scars may still be noticeable, even after several sessions.
Laser, light source and radiofrequency treatments.
In laser resurfacing, a laser beam destroys the outer layer of skin (epidermis) and heats the underlying skin (dermis). As the wound heals, new skin forms. Less intense lasers (nonablative lasers), pulsed light sources and radiofrequency devices don't injure the epidermis. These treatments heat the dermis and cause new skin formation. After several treatments, acne scars may appear less noticeable. This means shorter recovery times, but treatment typically needs to be repeated more often and results are subtle.
Skin surgery.
A minor procedure (punch excision) cuts out individual acne scars. Stitches or a skin graft repairs the hole left at the scar site.